P3JH
I want to welcome you all to Primary 3JH. Everyone experienced a very different last term in P2 and Summer holiday, but we are ready now to start a brand new learning adventure, with lots of new things happening soon. We will keep you informed, so keep looking at our school website. Another Thank You for all the hard work you have done on SeeSaw. The Home Learning Codes have been sent home so please use them to access your new accounts. We will be up and running very soon, posting photographs and displaying class activities.
A big CONGRATULATIONS to all the families for the way in which the children started back to school. It was lovely to see them dressed wonderfully in their new school uniforms. What a credit to you, and a great showcase for our school community!
The boys and girls were very happy to meet up with friends again in their Class Bubble and share stories about what they did during Lockdown and the Summer.
Our topics this year will be: ALL AROUND US, ANIMALS, WINTER, BREAD & PIRATES.
Life in school is still going to be a little bit different. We have new rules to learn to keep us all safe. We will be working and playing in our class bubble. I know we will have lots of fun learning our new routines together.
It is important that we all look after our health and wellbeing this year. Over the holidays we have created a new sensory circuit on the link corridor. We have decorated our nurture room and got lots of lovely new equipment for our nurture room. Boys and girls from P.1-7 will be able to use these amazing new resources throughout the year.
Our start time is: 8:55AM.
You will enter the school by the church car park gate and go straight to our new classroom by the parish entrance.
You will use hand sanitizer when you enter the school and when you get to the classroom you will wash your hands.
Make sure you bring in one healthy item to eat at break time.
(Remember not to bring any food containing nuts as some of boys and girls have nut allergies.)
We will let you know our P.E. day(s) when these are confirmed.
We finish at 2:30pm from Monday to Thursday and 1:40pm on a Friday
This is a very important year for our P.3 children as they will be making their First Confession. We will let you know this date when it is confirmed later in the year.

From Mrs Harriott and Ms Lavery
News
3rd Sep 2021
Sending a big WELCOME to all the pupils and their families joining P3JH. Mrs Harriott...
Latest Photographs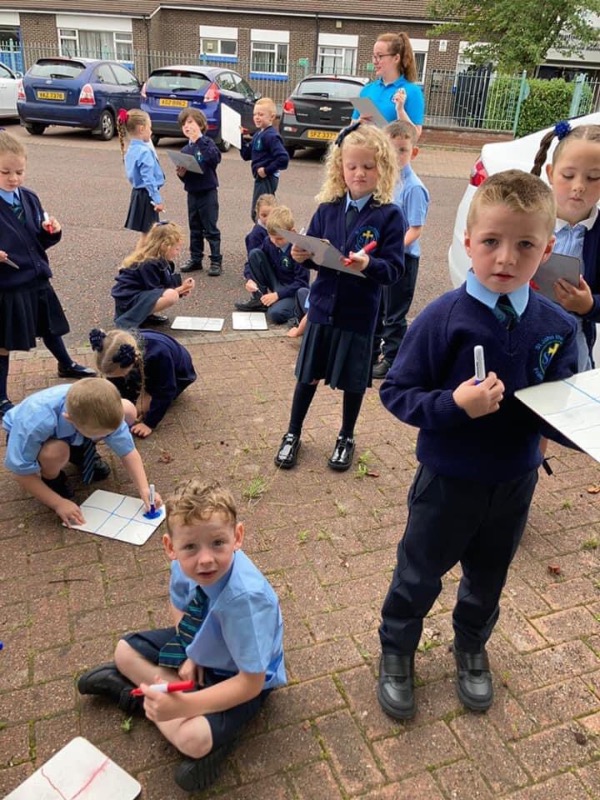 St John the Baptist Primary School, Finaghy Rd North, Belfast, Antrim BT11 9EH Phone: 028 9061 4546