P4KM
Welcome to Primary 4 Mr. Morgan's class web page. I'm so excited to have all the boys and girls back in school.
Our Literacy focus this half term is Recount writing. I can't wait to hear all about the wonderful things you've been learning about during summer and read about all your experiences.
Our Numeracy focus this half term is a revision of exchanging, fractions, money and problem-solving strategies.
Our topics this year: SENSES, MATERIALS, WEATHER, GARDENS AND GROWTH & WW2.
Life in school is going to be a little different. We have new rules to learn to keep us all safe. We will be working and playing in our class bubble.
It is important that we all look after our health and wellbeing this year. Over the holidays we have created a new sensory circuit on the link corridor. We have decorated our nurture room and got lots of lovely new equipment for our nurture room. Boys and girls from P.1-7 will be able to use these amazing new resources throughout the year.
Our start time is 8.55 am( Gates open at 8.40 am) You will enter the school via the Church Carpark (Parish Entrance). You will use hand sanitizer when you enter the school and when you get to the classroom you will wash your hands. We finish at 2.55pm Monday to Thursday and 1.40 pm on Friday.
Homework and School Bags: Pupils should come to school each day with a school bag containing their water bottle, packed lunch (if required), and break (a piece of fruit or sandwich no yogurts) Pupils can bring in their own pencils, rubber, sharpener, coloured pencils, glue stick, small ruler etc. Each pupil will receive a labeled pencil pot.
As we are a healthy eating school all pupils are required to bring in a healthy break and lunch. NO NUTS 🥜 as several pupils have nut allergies.
This is a very important year for our P.4 children as they will be making their First Holy Communion. We will let you know this date when it is confirmed later in the year.
P.E. days are Tuesday and Thursday. On Tuesday's P.E. day we ask that children come into school wearing navy tracksuit bottoms, a white polo t-shirt, a school jumper and trainers. On Thursday's PE day we ask for children to come dressed in full uniform and to bring a PE change of clothes in a bag, including trainers. We will change into our PE uniform each Thursday.
Here is to a wonderful and experiential year of learning in our Primary 4 classroom.
Mr. K Morgan
ACCELERATED READER & MATHS 👇
Latest Photographs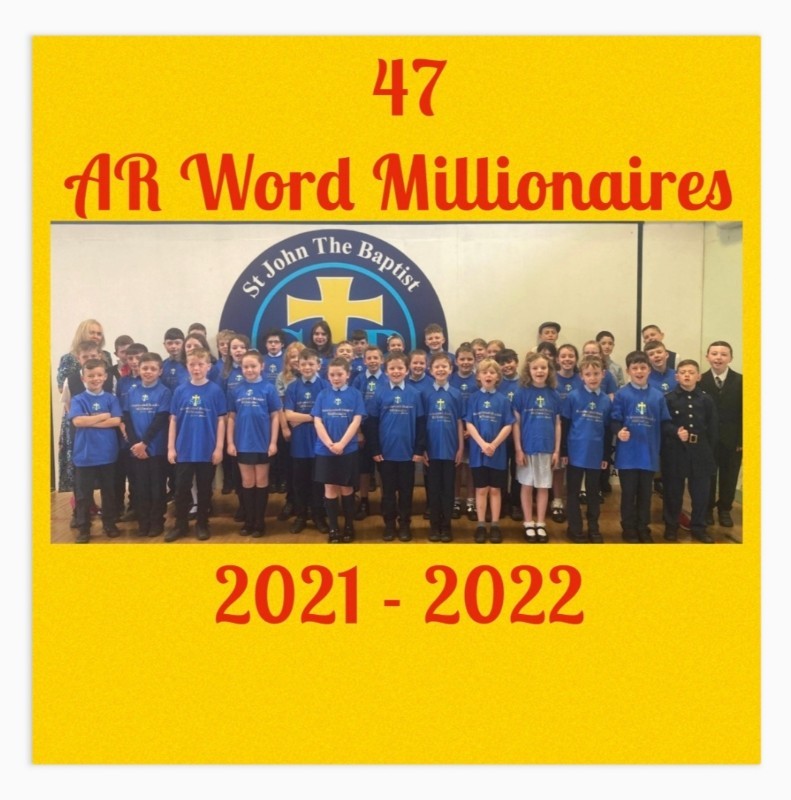 Class Photograph
&nsbp;
St John the Baptist Primary School, Finaghy Rd North, Belfast, Antrim BT11 9EH Phone: 028 9061 4546