P5KB
A very warm welcome to P.5KB! We just know it's going to be a very happy and productive year. We have already begun to try and establish a good routine. Our calm and meditative time each morning also helps set us up for the day.
It is important that we all look after our health and wellbeing this year. Over the holidays we have created a new sensory circuit on the link corridor. We have decorated our nurture room and got lots of lovely new equipment for our nurture room. Boys and girls from P.1-7 will be able to use these amazing new resources throughout the year.
We are so lucky to have Mrs Savage working with us every Tuesday and Wednesday. She will be assisting us in many areas of Literacy and Numeracy and we are already so grateful for all she does.
We just love our daily 'Drop Everything and Read' time and have started our class novel 'Charlotte's Web' which we are already enjoying. Our daily mental maths sessions will hopefully increase our confidence and speed throughout the course of the year, particularly in relation to our times tables which is crucial in all areas of maths this year.
The main focus of our weekly PDMU/Paths lessons will be positive social and emotional wellbeing. Each child will have their opportunity to be 'Pupil of the Day' when they become helper for the day, and they will also receive lovely compliments from their classmates on their special day.
Our topics this year: OUR SCHOOL/OLD STORIES OF IRELAND, ELECTRICITY, BIRDS AND FLIGHT, FOOD/THE BODY & EGYPTIANS.
We are looking forward to continuing the wonderful gardening work we began in P4 with Mrs Kerr in the adventure playground. We were so impressed at the amazing results when we paid a visit recently - we plan to keep you up to date with regular photos.
We will also be starting boxing lessons soon, as well as swimming lessons later in the year, so it looks to be a very busy year indeed.
Our start time is:8:55 AM.
You will enter the school by the main gate and go straight to our new classroom by the main foyer entrance.
You will use hand sanitizer when you enter the school and when you get to the classroom you will wash your hands.
Make sure you bring in one healthy item to eat at break time.
(Remember not to bring any food containing nuts as some boys and girls have nut allergies.)
We will let you know our P.E. day(s) when these are confirmed.
We finish at 2:55 PM from Monday to Thursday and 1:40 PM on a Friday.
We will keep in touch regularly through Seesaw and hope that the transition into P5 is as smooth as possible. I've no doubt, we'll all help each other along the way!
Looking forward to a great year,
Mrs Burke and Mrs Savage.
ACCELERATED READER & MATHS 👇
Latest Photographs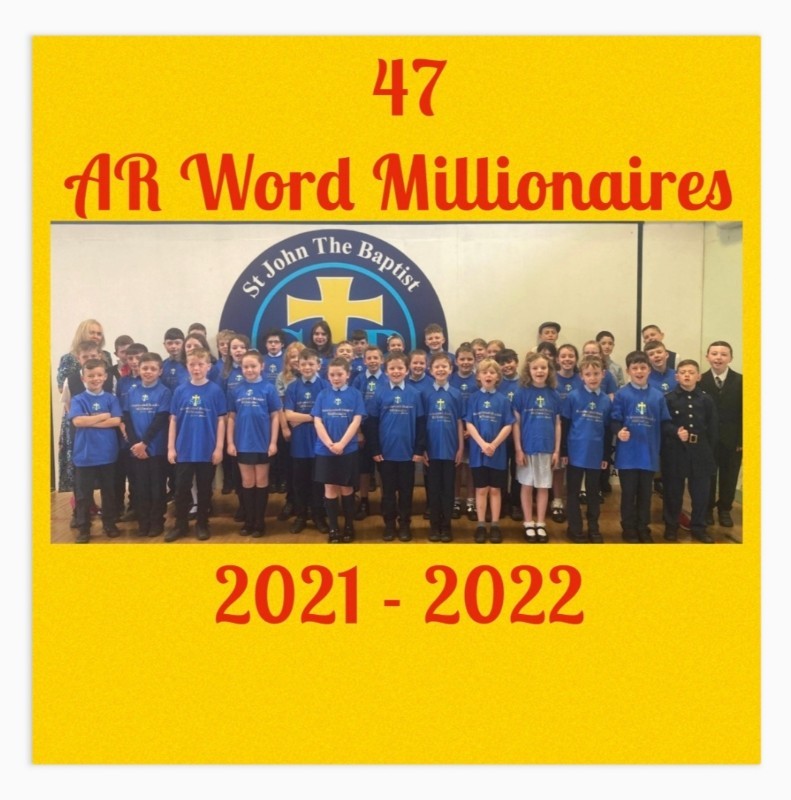 St John the Baptist Primary School, Finaghy Rd North, Belfast, Antrim BT11 9EH Phone: 028 9061 4546